Gary Hilliard, BS, LCDC
After receiving a Bachelor's of Science Degree in Banking and Financial Institutions at the University of Houston, Gary Hilliard, BS, LCDC worked as a banker for several years prior to a second career as a Licensed Chemical Dependency Counselor. Gary started his career as an addictions specialist with the Cenikor Foundation in Dayton, Texas, where he worked for four years. In 2011, Gary joined New Dimensions Day Treatment Centers where he works as the Director of Substance Abuse Counseling.
Mohammed Ayoub, MD
Mohammed Ayoub, MD is a practicing Adult, Child, and Adolescent Psychiatrist in Houston, Texas. After finishing General Psychiatry Residency at Loyola University Medical Center in Maywood, Illinois and Child and Adolescent Psychiatry Residency at the University of Texas Medical Branch in Galveston, Dr. Ayoub has been practicing in Clear Lake since 2002. He has been with the New Dimensions Day Treatment program of Clear Lake as the Medical Director of their Adolescent Program since 2002.
Tracie Bein, MA, LPC
Tracie Bein, MA, LPC is the Adult Mental Health Clinical Director and has worked at New Dimensions Day Treatment Centers in the position since 2000. She received her bachelor's degree in Psychology from the University of Texas at Austin. Ms. Bein received her master's degree in Counseling Psychology from Tufts University in Boston. She has over 27 years of experience in the field as a Licensed Professional Counselor. Besides working at New Dimensions, she has worked in numerous adult partial hospital programs in Texas doing individual, family and group psychotherapy. She also has experience in geriatric outpatient mental health and in the past served as the Clinical Director for the Rape Crisis Center in San Antonio, Texas. Her clinical specialties include trauma counseling, bipolar, depression and anxiety disorders and grief work. She also is certified in Reiki II.
Jeanie West LCDC
After receiving an Associates in Applied Science of Nursing degree at Alvin Community College, Jeanie West, LCDC worked as an RN for several years before returning to school to pursue a career change as a Licensed Chemical Dependency Counselor. Jeanie began her career as an addictions counselor with New Dimensions in 2013. Jeanie is a certified Yoga and Meditation instructor. Jeanie has been working in the field of recovery since 2013. She is a native Houstonian, attended Alvin College where she received her Associates in Applied Science of Nursing and worked as an RN. is a certified yoga instructor and has an extensive business management background in the Oil and Gas industry, but while experiencing her own personal journey in recovery she decided to return to school to become a Licensed Chemical Dependency Counselor. She became passionate and grateful for the opportunity to work in something she loves and has never thought about doing anything else. She enjoys talking with people about the joys of recovery, and because asking for help was so difficult for her, she always wants to be available to answer questions and be able to help.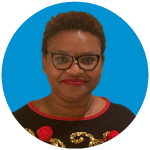 Anetra Williams, M.Ed., LPC-Associate
Anetra received her Bachelor of Science in Sociology from the University of Houston Clear Lake. She received her Masters in Education (M.Ed.) in Counseling and Development from Lamar University. She is experienced in working with trauma, anxiety, depression, bipolar disorder, schizophrenia, Autism, and IDD. Anetra's experience includes working with children, adolescents, couples, families, and adults. Her specialization is working in marriage and family therapy. Anetra also has certifications in Reiki II and Children's Yoga. Her previous experience includes over 10 years in education working with children with behavior issues. Supervised by Morgan Tuck M.A.. LPC-S, NCC.
Pauline McHenry, M.S., LPC-Associate
Pauline McHenry, M.S., LPC-Associate received her Bachelors of Science in Psychology with a concentration in child and adolescent development and her Masters of Science in Clinical Mental Health Counseling from Walden University. Pauline has experience with diverse populations in private practice as well as outpatient mental health with individuals who are struggling with unresolved trauma, depression, anxiety, grief, bipolar disorders, autism, and LGBTQ+ related problems.
Stephanie Zeid, PhD, PsyD
Dr. Stephanie Zeid is a Licensed Clinical Psychologist in Arizona and Texas with a specialization in neuropsychology and health psychology. She earned her undergraduate degree from Vanderbilt University in Nashville, Tennessee, and her Master's and Doctoral Degrees from the Florida Institute of Technology in Melbourne, Florida. Her pre-doctoral APA-accredited internship was completed at the University of Alabama at Birmingham, specializing in medical psychology and neuropsychology. She completed her post-doctoral fellowship at the University of Texas Health Science Center/McGovern Medical School in Houston, Texas, focusing on neuropsychological assessments across the lifespan.
Presently, Dr. Zeid specializes in providing psychological and neuropsychological assessment services for children, teens, adults, and older adults, providing diagnostic clarification and treatment recommendations for disorders related to the brain and behavior. A clinical interview, review of records, and testing are combined to provide a comprehensive picture of the individual. Specific areas of assessment include but are not limited to, anxiety, ADHD, behavioral issues, bipolar disorder, cognitive impairment/dementias, concussion/head trauma, depression, diagnostic differentiation, giftedness, intellectual abilities, learning disabilities, memory concerns, and personality disorders.